Presentation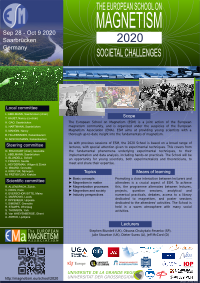 The topic for the 2020 European School on Magnetism will be Magnetism and Societal Challenges, part of the Series of the European School on Magnetism. The School will take place from Sep 28th to Oct 9th 2020 in Saarbrücken, Germany. The School is chaired by Leon Abelmann, in association with the magnetism communities of the Greater Region in Kaiserslautern (Germany) and Nancy (France). Saarbrücken can be conveniently reached by train/shuttle from both major airports Frankfurt and Paris Charles de Gaulle.

Like previous editions of ESM, the 2020 School aims at providing a thorough understanding of magnetism based on a broad series of fundamental lectures, while offering the latest insights into up-to-date aspects of magnetism with lectures focusing on a special topic. The topic covered in 2020 is Magnetism and Societal Challenges. The objective is to cover a wide range of fundamental to functional phenomena, to serve as a critical evaluation of the use of Magnetism to address societal challenges. The 2020 School will have a special format to achieve this objective, sharing time between academic lectures and project work in small teams. The School will be an opportunity for young scientists and lecturers from various fields to meet, share their expertise and build a network.
The School is addressed at young scientists, mainly PhD students and post-docs, both experimentalists and theoreticians. It will consist of an eleven-day training of lectures and practicals provided by prominent scientists active in today's research, interactive question sessions, student-lead projects, access to a library of magnetism-related books, and industrial contributions. Request for participation is scheduled to open around March 2020.