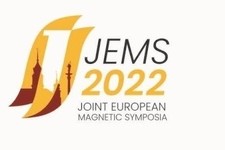 02/06/2022
Joint European Magnetic Symposia 2022: Additional submission window for the latest news abstracts (mostly posters) is open till 16 June. JEMS2022 will be held as Hybrid Conference (Warsaw & online) 24-29 July 2022.
In response to popular demand, the organizers of JEMS2022 have decided to open the late abstracts submission procedure, i.e., an additional submission window for the latest news abstracts. The late abstracts are welcome until 16 June 2022 (23:59 CET).
More information (+submission link): https://jems2022.pl/late-news
The accepted contributions will be predominantly presented as posters. However, the eight most outstanding contributions will be selected for a "latest news" oral session held on 29 July (Friday).
The decision of the Program Committee will be announced via email to the submitting author by 24 June 2022.
Further information:
A nearly completed list of 70 invited speakers can be found at: https://jems2022.pl/Invited-speakers

As of 1 June, there are 500 registered participants, of which 375 selected the on-site participation.

We expect 650 presentations of all kinds during the whole course of JEMS.