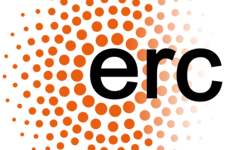 12/05/2022
Results for call 2021 ERC Advanced grants have been published. Among these, several projects are related to magnetism.
FODOR Zoltan Istvan
University of Wuppertal (DE)
MUON: Lattice determination of the muon's anomalous magnetic moment

PARKIN Stuart
Max Planck Society (DE)
SUPERMINT: Interplay between Chirality, Spin Textures and Superconductivity at Manufactured Interfaces

ROEHRLE Oliver
University of Stuttgart (DE)
qMOTION: Simulation-enhanced High-density Magnetomyographic Quantum Sensor Systems for Decoding Neuromuscular Control During Motion
SORT Jordi
Autonomous University of Barcelona (ES)
REMINDS: Voltage-Reconfigurable Magnetic Invisibility: A New Concept for Data Security Based on Engineered Magnetoelectric Materials
VAN WEES Bart Jan
University of Groningen (NL)
2DMAGSPIN: Two-dimensional magnon and spin gases in magnetic Van der Waals heterostructures
BLUNDELL Stephen
University of Oxford (UK)
MUCONTROL: Muon site location and pulsed control of interactions in spin liquids
All advanced grants from Physical Sciences and Engineering Domain.