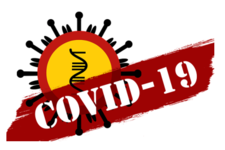 22/03/2020
Many international events have been impacted by the coronavirus outbreak and related measures. Below we provide updates on changes for events listed in our calendar of events (Agenda).

Several events have been postponed to November/December or even next year(s).
Postponed/cancelled events [updated 29 March 2020]:
Other changes related to rescheduling of events:
ESM2021 (The European School on Magnetism): 6-17 Sep, 2021, Cluj-Napoca, Romania.
Initially planned for 2022, but now moved to earlier date - IEEE Summer School will be in Taiwan not in Europe in 2021 as initially planned.



IWMNT 2021 (International Workshop on Magnetic Nanowires and NanoTubes 2021) - New date: 30 Aug-03 Sep 2021, moved to earlier date (few days) to acoommodate for ESM2021 School.