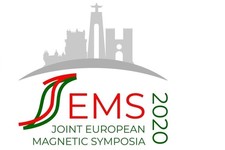 09/10/2020
2020 Joint European Magnetism Symposia conference is going fully virtual. We keep the planned dates, December 7-11, 2020. Read the full statement below.
Dear Colleagues,
We are writing to you with regard to the upcoming 2020 Joint European Magnetism Symposia (JEMS) conference. Like in many other areas of public life, we are affected by the Corona pandemic. The regulations and our responsibility for your health prevent us to organize JEMS 2020 as an onsite conference, as originally planned.
Therefore, JEMS 2020 is going fully virtual. We keep the planned dates, December 7-11, 2020.
A conference such as JEMS needs a long preparation time. The contracts for the venue at the Lisbon Congress Center had been signed already a while ago, as it is common when booking large facilities. Following the decision to go fully online, we re-negotiated the contracts aiming at the lowest possible financial burden and thus registration fees. Together with the congress organizer Abreu Events, they will provide us with all the needed infrastructure to guarantee a well prepared and smooth online event.
We are now working hard to create an exciting JEMS 2020 under the new conditions. Switching to an online format even opens up new opportunities for communication and interaction amongst participants. For example, we will run forums during the conference to allow for direct and convenient interactions with the presenters of talks and posters. Also, a special online mingling event is planned to be included in the program to further enhance scientific discussions.
We all regret very deeply that we cannot meet in person in the beautiful city of Lisbon. However, we are now looking very much forward to the new, exciting JEMS 2020, and that you will join this event to promote magnetism in Europe.
Burkard Hillebrands, President of the European Magnetism Association
Olivier Fruchart, Vice President of the European Magnetism Association
Tomas Jungwirth, President of the International Advisory Committee
Paulo Freitas, JEMS2020 Chair, Organization Committee
Diana Leitao, Organization Committee
[ Early Bird Registration till 5 November!]