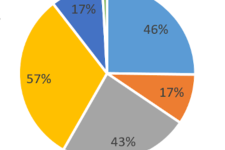 02/05/2023
Summary of answers and actions that EMA has taken – or considers taking – following the online survey conducted in the beginning of 2023
In the beginning of 2023, the European Magnetism Association (EMA) conducted an online survey, addressing different key topics from outreach activities to EMA events. All colleagues interested in the field of Magnetism were invited to participate, helping us to define the roadmap for the coming years and shape the future of EMA. The survey gave the opportunity to give input and share expectations, as well as visions concerning EMA. All answers have been gathered anonymously.
In a document, we summarize the answers and outline the actions that EMA has taken – or considers taking – concerning the different aspect. In particular, the board of EMA has decided to develop a strategy for the following items:
Improve the link with young scientists and involve them in the decision making of EMA.
Individual and group membership
Links with national societies and communities in Europe
Publishing, especially proceedings
Item 1 is currently being developed by the board of EMA. Items 2 to 4 are discussed in three dedicated commissions, involving members of the General Council (GC). A strategy for all four items will be proposed for approval at the next meeting of the GC of EMA, which will take place during JEMS (27th Aug – 1st Sep 2023 in Madrid, Spain).