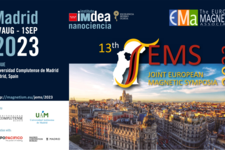 18/01/2023
It is with great pleasure that we are inviting you to the 13th JEMS Conference, which will take place in Madrid from 27th August to 1st September, 2023. Registration is now open and the deadline for Abstract Submission will be 9th March 2023

Dear Colleagues,
Dear Fellow Scientists,
It is with great pleasure that we are inviting you to the 13th JEMS Conference, which will take place in Madrid from 27th August to 1st September, 2023.
The Joint European Magnetic Symposia (JEMS) is the most important and comprehensive conference on Magnetism in Europe. JEMS focuses on a broad range of topics embracing applicative and fundamental aspects of Magnetism, as well as novel magnetic materials: from the development of materials for energy applications to materials for information storage and sensing technologies, biomagnetism and biomedical applications, magnetism for quantum technology, magnonics, spintronics… JEMS attempts to cover all areas of Magnetism offering an ideal scenario to share the latest advances made worldwide in research and innovation.
JEMS 2023 will follow the outstanding organization scheme of symposia from previous editions (Warsaw 2022, Lisbon 2020, Uppsala 2019…) by providing the opportunity to enjoy Plenary and Semiplenary lectures by international experts on very different topics. Presentations by invited speakers at each symposium and oral and poster contributions will complete an exciting scientific program. While a hybrid format will be followed, Plenary, Semiplenary and Invited speakers will all attend in person to allow forfurther and exciting discussions during the coffee breaks and poster sessions & beverages.
JEMS 2023 will take place at the Faculty of Medicine on the main campus of Universidad Complutense de Madrid, with a unique Opening Ceremony taking place in a special location in the city on Sunday 27th August (more details coming soon). The campus is located at a privileged site nearby Madrid city centre. IMDEA Nanoscience will be the organizing institution supported by two major universities: Universidad Complutense de Madrid and Universidad Autónoma de Madrid.
The list of Symposia, complete Abstract Submission information and Registration Form can be found via the website https://www.jems2023.es/
The organizing committee of JEMS 2023 is looking forward to welcoming you to Madrid!