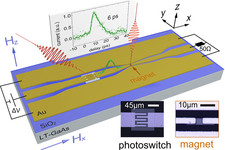 11/11/2020
Researchers report a novel technique for magnetization switching using short 6-picosecond electrical pulses.
The switching is almost 100 times faster than in state-of-the-art spintronic devices. Moreover, the researchers found this technique to be highly energy efficient, another valuable property for magnetic memories.
News on the STF web. Berkeley News Release
News suggested by: Mafalda Jotta Garcia (UMP CNRS/Thales, FR).
Image credits: Jon Gorchon