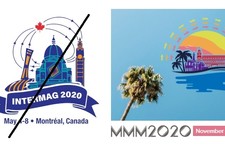 22/03/2020
Intermag 2020 is cancelled due to COVID-19. Below you can find a statement (info, refunds, manuscripts) from the chair & IEEE Magnetics society.

We hope to meet you at MMM2020 in November 2020 in Florida or at INTERMAG 2021 in April 2021 in France.
Dear Colleagues, dear IEEE Magnetics Society Members,
Due to the most recent developments by the Canadian Government, namely the ban in Quebec of gatherings larger than 250, the 14-day quarantine for arrivals from outside Canada, and most recently, the travel ban on non-Canadian citizen arrivals, we have made the difficult decision to cancel the INTERMAG 2020 Conference, originally scheduled to be held May 4-8, 2020 in Montréal, Canada. Full details about what this means, including timelines for refunds and publications, can be found on our website, at www.intermag2020.com.
Since January, we have been closely monitoring the COVID-19 situation, as the health, safety, and well-being of all our Conference participants is our top priority. We arrived at this difficult decision only after exhausting all other alternative options such as going virtual, postponing the Conference, or merging with another Conference. We want to thank you all for your patience and understanding as we monitored the fluid COVID-19 outbreak to make the best decision for everyone.
Full refunds will be issued to all registered attendees, exhibitors, and supporters in the coming weeks. Please continue to be patient with us as we work to untangle all the commitments related to INTERMAG 2020. Updates will be posted on www.intermag2020.com as they become available. In the meantime, we encourage you to call your airline and hotel as soon as possible to cancel your reservations.
To thank all the speakers for their support of the Conference, all authors with an accepted digest will be given the opportunity to submit a manuscript for potential publication in a special topic issue on "Applied Magnetics" in the IEEE Transactions on Magnetics. The new deadline for submission is May 8, 2020. Detailed instructions for manuscript preparation are available on the Conference and manuscript submission websites. All manuscripts submitted for consideration of publication will undergo the regular peer review process involving two reviewers and meet the same high standards as regular submissions; IEEE editors will make the final decision on the publication of the manuscripts. Accepted Conference-related papers will be posted online with DOIs as "Early Access" and then published in final form as regular articles in early 2021.
INTERMAG provides an opportunity for our global magnetism community to come together and interact with, learn from, and be inspired by colleagues and we are disappointed to not be able to provide you with that forum this May in Montréal. However, your health and ultimately that of all of our families, colleagues, and communities is paramount. Instead, we hope to meet again at either MMM 2020 (www.magnetism.org) in November 2020 in Florida or at INTERMAG 2021 (www.intermag2021.com) in April 2021 in France.
We wish all the best for the entire magnetism community and hope that everyone remains healthy and safe!
Sincerely,
Cindi Dennis, General Chair, INTERMAG 2020
Pallavi Dhagat, President, IEEE Magnetics Society