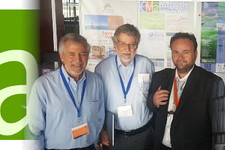 29/08/2019
Three years after its creation, the European Magnetism Association is renewing its President and Vice-President, following its statutes. It is also the opportunity to draw a clear roadmap for practical actions for our community in the coming years.
The General Council of the European Magnetism Association (EMA) held its annual meeting this week, taking the opportunity of JEMS2019 being held in Uppsala. Besides reviewing ongoing actions, the renewal of the Presidents of the association has been discussed. Consistent with the statutes of EMA, the mandate of President Dino Fiorani comes to an end with this edition of JEMS. Dino has been President for three years, since the very creation of EMA. He has successfully contributed to the emergence of the association, fostering the creation of the General Council with one member per European state, and the establishment of ties with sister societies such as EPS and the IEEE Magnetics Society. Let him receive our full appreciation for this important contribution! Burkard Hillebrands, so far Vice-President, has been confirmed to become President of the association for the three years ahead of us. He will be assisted by Dino, who will remain active in international networking, and Olivier Fruchart, who is the newly-elected Vice-President.
The action of EMA is now well established in communication towards the community, conferences and higher education with JEMS and ESM, and will continue as such in coming years. Nevertheless, we have identified a number of aspects of importance for our community, which we intend to tackle in coming times. Our immediate thoughts go to young scientists support, strengthening European collaboration, and strengthening international networking. However, we feel that we should also strengthen our actions linking academics with the private sector, consider public outreach, and address societal challenges for our community, such as carbon footprint and open publishing&data.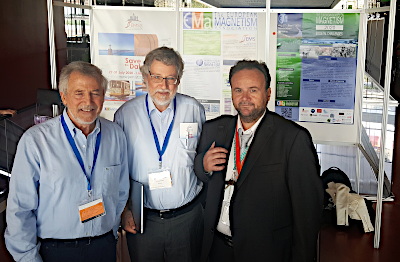 From left to right, at the booth of EMA during JEMS2019: President of EMA 2016-2019 Dino Fiorani, Vice-President of EMA 2016-2019 Burkard Hillebrands, and JEMS2019 Chair Roland Mathieu.