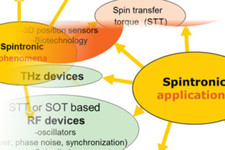 26/02/2019
The SpinTronicFactory team present how they want to transform European excellence in spintronics at fundamental research level into a direct benefit for the European microelectronics industry
To ease the progression of spintronics towards higher TRL levels in Europe, in 2016, the spintronics community decided to create a coordination structure called SpintronicFactory (STF). Its aim is to federate all EU actors on spintronics and to push the whole community to 'think' applications with the aim of transforming our R&D excellence and IP background into industrial development and economical gain.
STF gathers today 86 European partners (12 private companies, 30 R&D centres, 44 academic
entities) active on spintronics from 17 European countries (FR, DE, IT, ES, PL, UK, SE, TR, PT, CH, NL, GR, SK, BE, NO, HU, CZ). STF is itself under the umbrella of the European Magnetism Association (EMA) which aims at structuring the whole magnetics community.
The network is organized around four axes of research and development: Memories; Magnetic sensors; Radio Frequency and microwaves devices; Logic and non-Boolean devices. These pillars are supported by two transverse activities: Advanced materials, nanofabrication and tests; Modelling and design.
SpinTronicFactory is releasing today an update of its vision on the development of academic and applied spintronics at the scale and for the benefit of Europe, in SciTech Europa Quaterly.