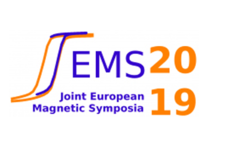 04/02/2019
EMA will support attendance of 12 students to the Joint European Magnetic Symposia (JEMS2019).

Deadline for grant applications: 1st March 2019.

Registration is now open! Submit your abstract!

Joint European Magnetic Symposia (JEMS) 2019: 26-30 August 2019; Uppsala, Sweden
EMA grants for students
The European Magnetic Association (EMA) will be supporting the attendance to JEMS2019 of twelve students, for which registration fees will be waived. In order to apply for such support, submit an application to jems2019@akademikonferens.se before 1st March, 2019. The application shall contain a single pdf file including:
a motivation letter (max. 200 Words)
a recommendation letter from the advisor
an abstract submitted to the JEMS2019
Results will be communicated shortly after the deadline, and awardees given a special registration link.
Registration
Registration for the the 2019 Joint European Magnetic Symposia (JEMS2019) is now open!
Summary of key dates
EMA grants for students till 1st March 2019

Abstract deadline: 10th April 2019, Submit your abstract soon!
Early Bird registration deadline: 26th June 2019