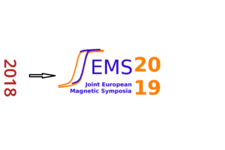 01/10/2018
The Joint European Magnetic Symposia 2018 is over. You can find below few notes on the event. 2019 session will take place Aug 26-30 in Uppsala, Sweden.
The Joint European Magnetic Symposia was held successfully early September in Mainz, Germany. The number of participants was very high, close to one thousand, which contributed to a very lively conference. With a limited number of parallel sessions (five this time) and dedicated poster sessions, JEMS keeps its unique format allowing high standards for the contributions, critical mass of attendance in the symposia, and excellent networking at the posters.
Mark your agenda with the next JEMS conference (JEMS2019), to be held Aug 26-30th 2019 in Uppsala, Sweden. The deadline for submitting abstracts is April 10th 2019.