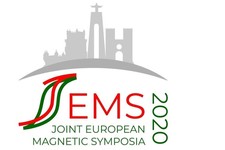 12/03/2020
EMA and JEMS2020 will financially support attendance of several students and young researchers to the Joint European Magnetic Symposia (JEMS2020). Abstract submission for the JEMS is open till 1st April 2020, grant applications till 23 March (both extended).
[update: 3 April 2020] - JEMS postponed to 7-11 Dec 2020.
JEMS2020, 7-11 December 2020 in Lisbon
Given the current events and uncertainties, the organizers have decided to extend (very generously) the deadline for the abstract submission and applications for grants (see below).
EMA will financially support attendence of students (up to 12, fees waived)) and JEMS2020 will support young researchers (up to 5; 50% discount). More information HERE.
Application till 23 March 2020 (extended)
Abstract submission is open! Submit your abstract.
Abstract submission deadline: 01 April 2020 (extended).
Results Communication: 30 April 2020 (changed).

Early Bird Registration close on 25 May 2020