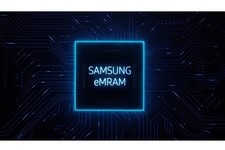 31/03/2019
Samsung announced commercial production of its first embedded MRAM (eMRAM) product based on its 28-nm FD-SOI process.
The company said that its eMRAM module can easily be inserted at the back end of its 28FDS process, requiring less dependence on the front end of the process for easy integration with existing logic technologies including bulk silicon, FinFET, and FD-SOI transistor. Samsung also said that it plans to tape out a 1-Gb eMRAM test chip later this year. Samsung says that its eMRAM memory module offers higher performance and endurance when compared to eFlash, and can be integrated into existing chips.
Source article: https://news.samsung.com/global/samsung-electronics-starts-commercial-shipment-of-emram-product-based-on-28nm-fd-soi-process
News suggested by: Lucian Prejbeanu (Spintec, France).